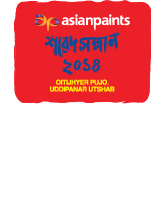 3 Best Pujas
Suruchi Sangha
Artist: Naba Paul
This year theme is "bangla amar ma" ( Bengal my mother). Suruchi Sangha has successfully portrayed the different facets of west Bengal. The essence of Bengal has beautifully been portrayed through showing different regions and culture. Birbhum- a district in West Bengal is beautifully depicted through 'Baul' culture and its musical instruments. Sunderban is presented through mangrove trees, sundari trees, tiger paws in mud etc. A huge range of materials from Bengal like Shantiniketani Leather, terracotta, wooden sculptures, 'beetal' nuts are used in outcovering the main Puja.
Ultadanga Sangrami
Artist: Prasanta Pal
In an era where the tribal cultures are being regularly bereaved and deprived of pre-dominant social order, Ultadanga Sangrami has depicted the cultural heritage and notion of 'Gond' tribe, an entity which is congenital to the soil of Madhya Pradesh. The puja has deciphered how Gonds would have worshipped the Goddess Durga. The whole structure is made with the hand-paintings of the noted tribe. The idol of Durga is albeit here carrying the conventional guise; it is emerged from the simulation of 'Gonds' imaginary spiritual verse of goodness. The identity of the obliterating tribe is here clear and distinct.
Naktala Udayan Sangha
Artist : Bhabotosh Sutar
The theme for this year's Puja can be described as "Animating the Inanimate". An inanimate object like stone also has an intrinsic potential of sustaining life – Stone breaks down to form soil which sustains life in the form of vegetation. In a similar way, the sculptors have carved out the Goddess' form out of a single slab of stone weighing 16 tons, specially procured from Rajasthan. The entire process is viewed as an act of giving life to stone, through which the inanimate object is transformed into the divine form of Goddess Durga who is sustainer of all life on earth.