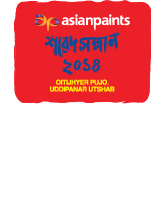 Congratulations to the winning Pujas for Asian Paints Sharad Shamman 2014: Shreshthho Puja - Behala Buroshibtala Janakalyan Sangha, Kankurgachhi Jubak Brinda Sarbojanin Durgotsav, Suruchi Sangha : Bachhorer Bismoy - Netaji Jatiya Sebadal; Shreshthho Protima Shilpi - Gouranga Kuila for Abasar Sarbojanin Durgotsav: Shreshthho Protima Shilpi Bachhorer Bismoy - Kanchi Pal for Kalighat Nepal Bhattarcharjee Street Club

3 Best Pujas
Behala Buroshibtala Janakalyan Sangha
Idol Artist : Shakti Sharma
This year's theme has been chosen as "Ganga my Mother" wherein her children are desperately crying out for help and protesting against her rampant pollution. The entire puja is a sight to behold! The goddess has arrived to her ailing children in a massive wooden vessel made of "Shirish" wood brought in from Orissa. The waves in the Ganges are portrayed as hands reaching out for help against the menacing problem of water pollution. The vestibule has been cleverly re-imagined to portray the clean underwater environment which the goddess will help bring back accompanied by sounds of lapping water to fill in the somber mood. Goddess Durga is depicted to be seated amid the waves of Ganges where she quells the demon of pollution and revives the vigor of the river for her children in much aplomb.
Kankurgachi Jubak Brinda Sarbojanin Durgotsav
Idol Artist: Naba Kumar Pal
Theme Artist: Anirban Das
In a bid to portray the ancient Ratha Yatra of Puri where one part of Goddess Durga's organs had fallen, Kankurgachi Yubak Brinda has made their theme "Ekbar Jagannath ke Dekh" (Look at Jagannath once). Ratha Yatra is one of the most significant festivals of the country and various people across the world come here during this time and try to touch the holy chariot once to have salvation. Representing this wonderful event; the puja displays some processions of Brahmins along with the rally of common men who come along to see the divine semblance of Jagannath. Maa is here worshipped at 'Rather Mela' where the people overwhelmingly pour in to get the flavor of Goddess of power amidst the inexplicable bonhomie of people.
Suruchi Sangha (New Alipore)
Idol Artist : Naba Pal
Theme artist: Subrata Banerjee
This year's theme is twofold - encompassing world peace along with the cultural and artistic brilliance of Chattisgarh. The artisans of Chattisgarh have meticulously hand crafted wrought iron metal work as well as intricately hand-carved wood. Goddess Durga has been depicted with only two hands to honour the Chattisgarh tribal tradition of worshipping their human ancestors. The deity is placed in the centre of all creations of the universe enhancing her spiritual significance. Figurines made of "papier mache" (a mixture of glue, water and paper) portraying people of all races holding hands; conveys the message of world peace.