3 Best Pujas
Behala Nutan Dal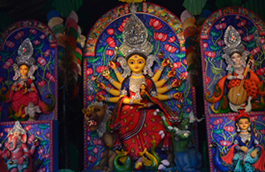 Artist : Jayshree Barman collaborated with Partha Dasgupta, asim and Nabakumar pal
Theme : Protecting Mother Nature
Behala Notun Dal A dingy factory shed transforms into a puja pandal at Behala Natun Dol. Their theme: Protect "Dharitri" or Mother Nature and the girl child, a manifestation of the same, in this hard world of metal and concrete. Artist Jayshree Barman has collaborated with Partha Dasgupta, Asim and Nabakumar Pal to conceive the entire pandal in hand painted iron casts.
Chetla Agrani Club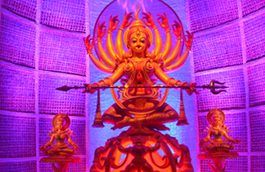 Artist : Bhabotosh Sutar
Theme : Maa Durga, the ultimane 'Yogini'
Chetla Agrani Club took 80 artists and 4 months to create this year's theme of Ma Durga, the ultimate Yogini. Artist Bhabotosh Sutar has made spectacular installations with bamboo ends depicting the core principle of attaining Kundalini through Yoga. Every element symbolizes the circle of life where every pixel counts. The humble Assam bamboo beautifully balances the vibrancy of colours brought out with the towering canopies and feminine bindis.
Naktala Udayan Sangha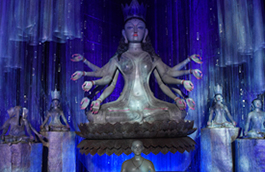 Artist : Sushanta Paul
Theme : Tranquility in Chaos
The 30th year of Naktala Udayan Sangha strikes a contrast between the chaotic mechanical noises of the world and internal spiritual calm. Sushanta Paul's theme focuses on overcoming our vulnerabilities through meditation, i.e., by commanding all our senses towards attaining the rightful path. The music by Pt. Mallar Ghosh & mystical lighting by Girish Poddar brings out the serenity of this Puja.