66 Pally Club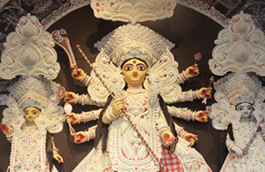 Artist : Purnendu Dey
Theme : Traditional Durga Puja in a long lost kolkata
Celebrating their 66th year, the Club recreates the original Bonedi Barir Puja of 1950's. Artist Purnendu Dey extensively uses plywood which carries hand painted thakurdalan, jhar, joydhaak and mongol ghot using a 3D painting technique. The exquisite shola works by the artisans from Katoa bring out the beauty of this traditional Bengali ek-chala protima. The ambience revives the purono para cacophony with the warmth of morning tea and adda.
State Bank Park Sarbojanin Durgotsob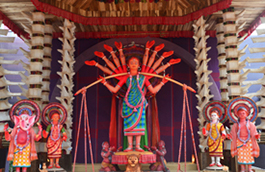 Artist : Bhabatosh Sutar
Theme : Bnaak (Bamboo scale like structure used for carrying load over long distances)
Artist Bhabatosh Sutar painstakingly creates the working class Durga at S B Park. The theme: Bnaak, is a frame made out of bamboo used to carry heavy loads over long distances. It highlights the daily struggle of the unskilled manual labourers. Details in form of gamchha, spade and the theme song by Kabir Suman showcases the hardships in the lives of manual labourers.