Rajdanga Nabodoi Sangha - A winner of the Creative Excellence for 2009: A pandal that was designed like a weaving loom!
The usage of innovative materials like jute fibre and banana leaves (nearly the entire plant is utilised) bring in the colours of rural West Bengal. The soft, golden hue of hemp and the brassy colour of burnished banana leaves, the vibrant pinks, blues and yellows of the threads on a pandal-sized weaving loom, and the deep matte red and yellow vegetable dyes used in the creation of Patachitra (a form of Orissa tribal painting). The colours and themes go hand-in-hand in creating masterpieces that last for just a few days, but leave an indelible mark in the mind's eye of millions.
The subjects and execution of the pandal themes clearly exhibit a profusion of talent, where every conceivable material is transfigured in the hands of skilful artisans. Something as commonplace as sheets of tin turn into an artistic masterpiece when lights twinkling through tiny perforations in the metal make intricate patterns come alive. Clay pots, plants, lamps, grain, dolls, vinyl records, masks, and even soap and biscuits have embellished pandals over the years, with word-of-mouth attracting throngs of onlookers to the most ingenious ones. Today, there are artisans whose sole means of livelihood are the pujas, like the idol makers of Kumortulli in North Kolkata and the dhaakis (drumbeaters) that accompany each celebration.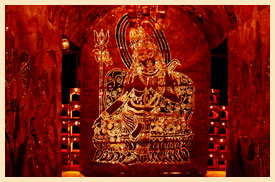 Pally Saradaya – One of the three Best Pujas for 2009: Where tin and light came together
Asian Paints Sharad Shamman celebrates the festival of the masses and helps give it back to them via the abundant creativity and talent available in Bengal. Twenty-six years after our initial foray into the Durga Puja celebrations, we, ourselves, are genuinely surprised by the twists and turns the storyline has taken. Nowhere else in India does the celebration of a festival turn the city into a veritable art gallery. Truly, the story has become bigger than its authors.