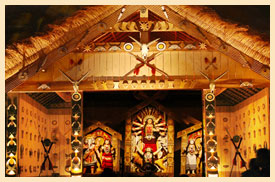 Ajeyo Sanghati - Shortlisted in 2004: Nagaland comes to West Bengal.
With restrictions being placed on the size of the pratima (Ma Durga's statue), the focus shifted to expressing creativity through the pandal design.
Today, set designers and government college art students spend months working on themes that are a blend of the unique, innovative and awe inspiring. A case in point is the theme pandal of Ajeyo Sanghati, a shortlisted pandal in 2004. The pandal was inspired by a Nagaland village, complete with a village loom, community centre, and tribal arts and crafts. To ensure authenticity, tribal dancers were brought across to perform the bamboo dance. Brilliantly dyed cloth in radiant reds and rich dark browns provided the backdrop to the golden yellow bamboos and silver spears and shields. It took three months of research in Nagaland, and two months of execution in Kolkata to recreate a colourful Naga village in a local park.