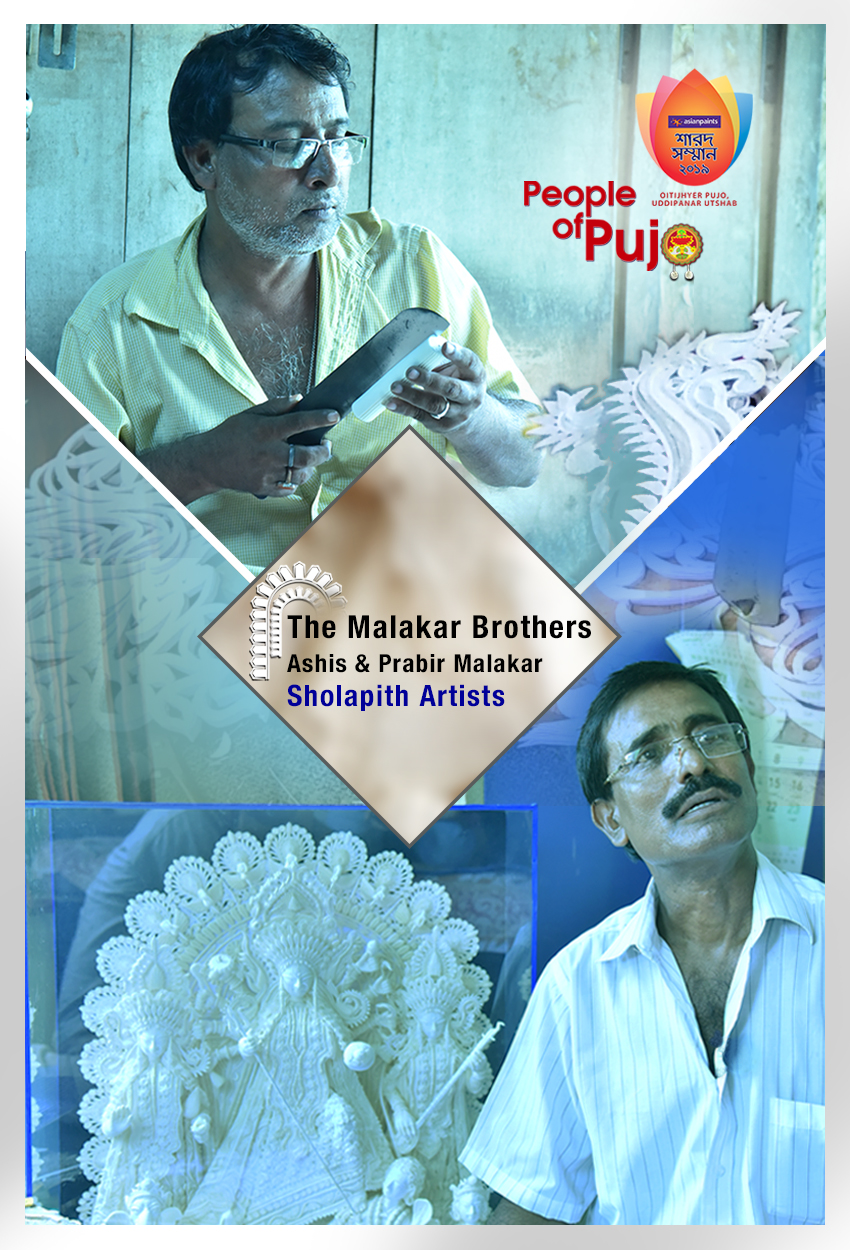 During the time of World War II, when the perils of destruction was looming large, a new avatar of art was emerging here in the horizon of Kolkata Pujo. The war in Germany, incidentally opened ways for Shola art in Bengal's Durga Pujo premise. The gilded foils and glass beads used in decorating the devi were sent by daak (post) from Europe and specifically from Germany. But once the war broke out, the stream of exports dwindled and the artisans here, in a frantic search to look for indigenous alternatives, turned to Shola, an aquatic wild herb grown in marshy wetlands. Sholapith then evolved as the medium for Durga's décor. Mrityunjoy Malakar of Bankapasi pioneered in introducing ornate for Durga & Kali Pratimas made of Shola which even took Netaji Subhash Chandra Bose by surprise at that time. Bose went on to use 'Shola r Saaj' made by late Mrityunjoy for Kali Pujo at his residence.
Meet the Malakar brothers, the grandsons of Mrityunjoy, Ashis Malakar & Prabir Malakar from Bankapasi, a remote village of east Burdwan district. They belong to a family that proudly treasures three President's Awards in their family chaste. After the demise of their grandfather, Katyayani Debi, their grandmother almost single handedly carried forward the legacy of the artistry along with managing the family. She bagged prestigious President's award in 1979, though the 1st ever official honour to any Shola artist went to his son Aditya, in 1974.
Ashis Malakar, in his mid 50s today, received President's Award in the year 1990 from the then President of India, Sri R. Venkataraman, for his exquisite work of a Durga Pratima craftly made with green ivory. His work took him across the globe from Singapore to Harare in Zimbabwe, from European countries to Caribbean Islands. In the year 2016, Ashis made an 18 feet Durga Pratima with Shola for a Pujo at Asansol that won him praises all over.
Prabir, the younger brother works at Ram Gopal Saha's Pujo Bari in Bowbazar & Kali Pujo at Pathuriaghata every year after the demise of his legendary father. He also does quite a few Durga Pujo ornamentation works in New Delhi every year. Prabir and his team of 10 artisans start their Pujo centric work every year on the day of Rath Yatra.
Today, both Ashis & Prabir makes Shola models for exhibitions which take them to places for festivals across the globe. Their works are on permanent display at various premiere art museums in India & abroad but by heart they still get their joy out of making ornates for Durga Pratima. Shola is an organic substitute to thermocol but the Malakars are a little apprehensive about the supply of Shola in the days to come and inadequate rain this year has added to the woe.
We believe the intricate cuts & carves on the green ivories of Sholapith by the Malakar brothers shall surely lead this almost extinct art form to new heights once again.See less